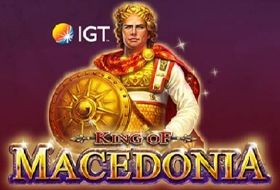 IGT's King of Macedonia is one of the company's most recent online slot machines. It brings the legacy of Alexander the Great, one of history's most famous rulers, to life. Based on a live slot that debuted in 2016, this game features Alexander in all of his splendour, with a larger-than-life symbol that can span two entire reels. A whole world of entertainment awaits you here, don't hesitate to conquer it.
The game's theme is building around Alexander the Great, who is undoubtedly one of history's greatest ancient generals. He's the one who invaded Persia, deciding that it was time for retaliation after the Persians conquered Greece a few hundred years before.
Treasure chests, warrior helms, violins, vases, scrolls, goblets, wilds and the Queen of Macedonia are among the symbols used in the game. It is worth mentioning that the Queen of Macedonia is the symbol that pays out the most, with 5 of them paying out 200 coins on the highest stake. Meanwhile, the RTP of the King of Macedonia is 96%.