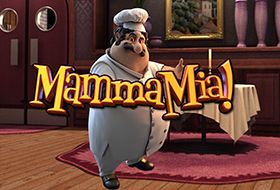 Welcome to Italia in Mamma Mia, a bistro-style slot game from Betsoft. This 5x3 game board offers delicious combinations that will have you drooling for more.
World-famous chef Salvatore occupies the bottom right corner of the screen, carefully keeping an eye on the affairs of his restaurant. The bright 3D symbols across the game board include boiling water pots, cutting boards, dishes, wine, and menus. Some of the higher-paying tokens include food critics and Chef Salvatore himself.
The bet ranges from ₱0.01 to ₱150. While this slot is available on Windows, Mac, and Linux computers, it is not available for mobile play.